Welcome to the official Landing Rate Monitor client documentation.
Use the navigation bar on the left to visit the various pages in this section or view some of the most frequently visited pages:
For this guide we are using LRM v5.5.9. Any name references to the version may be different in the future!
Download the latest release of LRM from the LRM Client website: https://www.lrmclient.org/


Open the downloaded zip file and double click on the lrm-setup-5.5.9.exe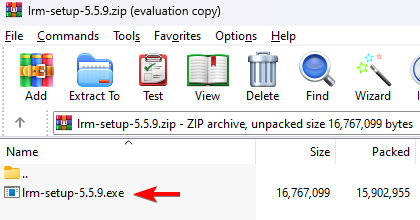 You will be prompted by the Windows User Account Control to allow LRM to run as an admin. Select "Yes" in the pop-up to continue!
You will then be asked to read and accept the license agreement, assuming that you are in agreement, click I Accept and then Next to continue


If you would like a desktop shortcut, tick the box and hit Next


You can confirm your installation details, if everything is satisfactory click Install
.
If LRM is already running, you will be prompted to close the app. It is strongly recommend to do so to prevent any issues with the installation!
After the installation has finished, read the text area for information and hit Next


You can now select if you want LRM to start after clicking Finish or simply exit the installation!

Congratulations
LRM has now been installed and is ready to be used! Don't forget to check the Preferences area via Edit > Preferences to configure the client as you like! Happy flying!